Quick Links
Resources
Press Releases
News & Events
LVBCH Wins National Award

Pictured left to right: Karen Linscott, Chief Operating Officer, NBCH; Susan Szymanski, Board of Governors, NBCH,
Thomas J Croyle, President, LVBCH; Rachel Burger, Project Manager, LVBCH
WASHINGTON and BETHLEHEM, PA – November 20, 2013 – The Lehigh Valley Business Coalition on Healthcare (LVBCH) was honored with the 2013 Membership Award by the National Business Coalition on Health (NBCH) for their leadership and efforts to improve the quality and efficiency of the health care delivery system, control health care expenditures and improve health at the community level.
Click here to read the entire press release.
Announcing Our First: Type 2 Diabetes Report
Lehigh Valley Business Coalition on Healthcare (LVBCH) and Sanofi US (Sanofi) are pleased to present the Type 2 Diabetes Report for 2013, an overview of key demographic, financial, utilization, pharmacotherapy and health outcomes measures for Type 2 diabetes patients in Allentown, Harrisburg, Reading and Scranton.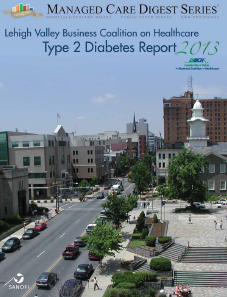 This report provides valuable information to assist you in assessing how diabetes management strategies for your population are working to change behavior, improve health and contain costs. More information can be found under the Resource section of our website.

Some of Our Members