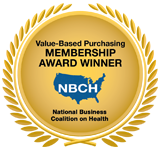 Quick Links
Resources
Press Releases
News & Events
SAVE THE DATE: MAY 8, 2014 LVBCH ANNUAL CONFERENCE
Topic: "Strategies to Navigate a Health Care System in Transition"
When: Thursday, May 8, 2014 (8:00 am – 1:30 pm)
Where: DeSales University, Center Valley, PA
To learn more about this program click here.

To register for this program click here.
Premier Event Sponsors
Gold Event Sponsors
Aetna Cigna Delta Dental
Highmark Blue Shield Merck & Co. NVA
Populytics United Concordia Valley Preferred
LVBCH Wins National Award

Pictured left to right: Karen Linscott, Chief Operating Officer, NBCH; Susan Szymanski, Board of Governors, NBCH,
Thomas J Croyle, President, LVBCH; Rachel Burger, Project Manager, LVBCH
WASHINGTON and BETHLEHEM, PA – November 20, 2013 – The Lehigh Valley Business Coalition on Healthcare (LVBCH) was honored with the 2013 Membership Award by the National Business Coalition on Health (NBCH) for their leadership and efforts to improve the quality and efficiency of the health care delivery system, control health care expenditures and improve health at the community level.