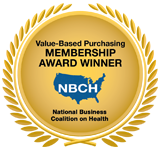 Quick Links
Resources
Press Releases
News & Events
SAVE-THE-DATE: May 8, 2015 LVBCH's 35th Annual Conference
09/24/14 LVBCH Wellness Engagement Workshop
"How to Increase Employee Engagement in Worksite Wellness Programs"


Date: Wednesday, 09/24/14 Time: 2:00 pm - 4:00 pm
Location: Lehigh Valley Hospital-Muhlenberg Educational Conference Center C & D
Sponsored by Valley Preferred & BeneFIT Corporate Wellness
Facilitated by: Certified Health Education Specialists from BeneFIT Corporate Wellness
Click links to Get More Information and Register
Agenda
Registration Required by 9/12/14 - Event for LVBCH Employer Members ONLY.


10/30/14 LVBCH Roundtable
"Benefit Design in the Post-ADA Environment"


Date: Thursday, 10/30/14 Time: 11:30 am - 2:00 pm
Location: Glasbern Inn Lodge, 2141 Packhouse Road, Fogelsville, PA
Sponsored by Merck
Presentation by Mark Fendrick, MD (University of Michigan)
Registration Required - Event for all LVBCH Members (Invitations will be sent in September.)


LVBCH Wins National Award

WASHINGTON and BETHLEHEM, PA – November 20, 2013 – The Lehigh Valley Business Coalition on Healthcare (LVBCH) was honored with the 2013 Membership Award by the National Business Coalition on Health (NBCH) for their leadership and efforts to improve the quality and efficiency of the health care delivery system, control health care expenditures and improve health at the community level.